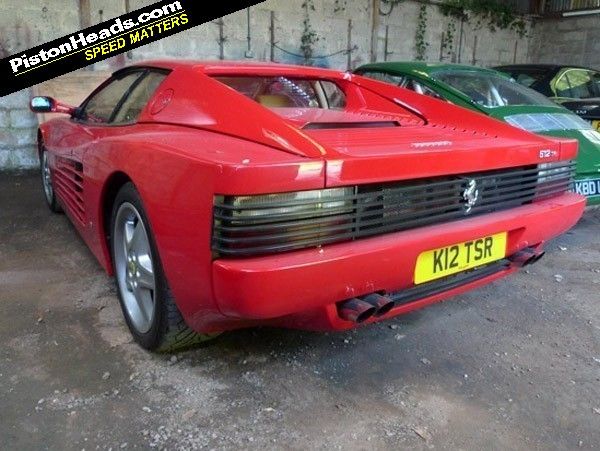 "Never go back" was one of those sage phrases we all giggled about as youngsters in the context of teenage romance, but it probably should apply to cars as well. The reason I chop-and-change vehicles so often is to experience owning as many cars on my list of must-haves as possible, and it appears that our time on this planet is actually quite limited.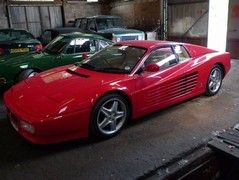 'My guilty secret' says Monkey
According to this strategy it should be unacceptable to own the same car twice. Which is why I've just bought another
Ferrari 512 TR
. Auto-monogamy is not something I seek.
I owned one of these homages to 90s excess a few years ago and never really did much with it. The car was purchased in late October, driven until it had to go away for winter and then someone offered me a sum I couldn't refuse the following March. It was a lovely car, just 6,000 miles young and frankly too good for my clumsy right foot and addiction to actually using cars.
Fast forward a few years and, even having owned a 512, I hadn't completed any significant journeys in it – and I just couldn't stop looking at them in the classifieds. It is the Ferrari beyond all others – and vaguely within my price range – that excites me the most. It is a real handful to drive fast, the motor is savage and I am obsessed by the styling. As facelifts go, the change from Testarossa to 512 TR is to my eyes one of the best ever. Bravo Pininfarina.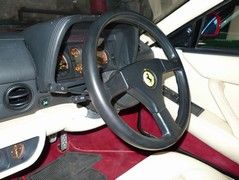 Lovely steering wheel, awful driving position
The prices of these flat-12 beasts (waits for the cognoscenti to howl 'it's not a flat-12, it's a 180- degree V12!') have risen sharply of late. Yes, I should never have sold it, but then if that were the case I would never have owned a
GT3 RS 4.0
and couldn't have afforded that insane 24 hours on the lash in Spain, so you can't win them all. Equally, I'm done with cars too good to use, so I wanted something a bit leggy and ready to be enjoyed.
And these TRs do cover some miles. There's a decent selection of mint showroom queens for sale at £100K, but there are also some 50K-milers lurking. The now famous 116,000-mile example failed to sell at auction and, though very tempted, I couldn't quite bring myself to bid on it. There was a decent car at Bob Houghtons, but I was just too busy to do anything about it. Then there were two cars at the Ferrari Centre, one with 70K miles, the other with 56K miles. These were interesting.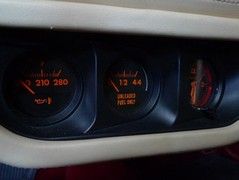 Useful 'unleaded fuel only' note from Ferrari...
I phoned and asked about the 70K-miler a couple of months back, only to be informed that it was sold. The car with fewer miles was still available, but any further investigations and communications were thwarted by the intrepid Neil, the beating heart of my video schedule, snapping his leg whilst jumping his bicycle in the Forest of Dean. Life suddenly became insanely busy and I put the 512 purchase on hold to focus my attentions on how to work a video camera and swear at Final Cut Pro.
Sadly for my bank balance, the 512 lust didn't abate. I phoned Matthew Beard at Ferrari Swindon (I know he features quite heavily in these episodes, but he is to supercars what Mother Superior is to Heroin in Trainspotting - the sustainer of my habit). I asked him to find me a car. He did – the one from the Ferrari Centre.
Now the 56K-mile 512TR is not a car that falls under any warranty category. You buy it with your eyes open and, frankly, hope for the best. Before this you draw great reassurance from seasoned Ferrari-spanners who proclaim the later flat-12s as among Maranello's most robust engines.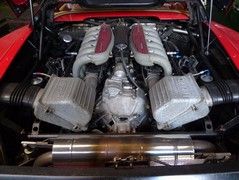 Does this really need a caption?
The accompanying history file was vast and showed a belt-change last October. And for a 21 year-old car to have only had three previous keepers looked pretty good to me.
After a recent outburst over personalised number plates, the irony will not be lost on you that I now own one of the worst I've ever seen. It's fairly clear that someone thought it a clever approximation of '512 Testarossa', but the first friend who saw the car simply asked why anyone would chose to have a shortened version of the word tosser on a license plate. Either way, I hate it and it's going in the bin.
And the cream interior? Not my favourite; I wanted black but unlike continental Europe, most of the UK-spec 512 TRs have leather the colour of clotted cream. Given the recent weather, I'm actually rather glad of the lighter shade.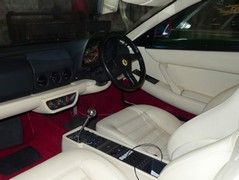 Presumably this interior doesn't smell of dog
I collected the car from Swindon late one afternoon, drove it straight to London for a dinner and parked it in Westminster under a sodium street lamp. When I came back at midnight, I just stood and stared at it – in a way I haven't stared at a car in years. The 512TR is my guilty secret – so much of it is obscene and jarring to the classically trained eye – but it's all my car fantasies rolled into one. The vast flanks holding those radiators and the rear end flattened with the tapering cabin shape narrowed against the great flat deck of aluminium. Outrun, Miami Vice, 80s excess lightly refined for 90s consumption.
The drive home was wonderful: start-up through the slightly rude exhaust, twisting the stalk twice to trigger the pop-up headlamps and then cruising out of town to take the long route home with a 430hp flat-12 and a dog-leg five-speed 'box.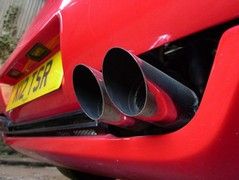 Aftermarket pipes make a great noise
Looking at what I buy and when, it seems my cars are often bought because they offer something their predecessor obviously lacked. For all the
599
's beauty, speed and noise, I missed being in full control of it – the 512 perfectly fills that gap. This is a paddle-free zone. I love how much of a challenge it is to drive at low speed; the unassisted steering is heavy, the clutch bites a little too high and first gear is, by modern standards, preposterously long. It's a gear you actually use much of the time in town. And why is it moving a lever up and right to select second gear from first feels instinctively cooler than the conventional method? Unfamiliarity? Definitely, and in this case the open gate and theatrically canted metal lever.
It's a properly fast car too. Contemporary road tests remember it with a 4.9 sec 0-60mph time, 0-100mph in 10.7sec and some lunatic called Andrew Frankel managed 174mph on the Millbrook Bowl.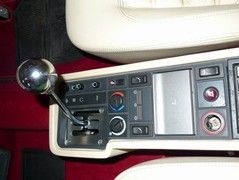 Dog-leg 'box demands effort; no paddles here!
On paper the 512TR is now easy fodder for
A45 AMG
s, but cars are like Test batsmen; we shouldn't be so eager to compare them from different eras. The 512's gearshift is a mechanical treat, but it is not fast, and its five gears have to shift the 1471kg lump all the way from a trickle to nearly 200mph. If it was fitted with paddles and two more forward ratios that 0-100mph time would be in the low 9s. Let it run from 2500rpm to the limiter in second and it feels way more potent than most 2013 sports cars. It also makes a noise no modern car can match. I have no idea who makes the exhaust fitted to this car, but it is an expertly judged balance of extra sound without resorting to abject shoutiness.
The driving position is a complete shambles – it's the most obvious giveaway of the car's age – but I'm driving many more old cars now and have learnt that the process of bodily adaptation is part of the fun. I have the seat-back pretty vertical, my legs out straight and can still barely touch the top of the wheel. And what a wheel it is – thin, free from puerile lumps and indentations, perfect in the hand. Well, the parts of it you can reach anyway.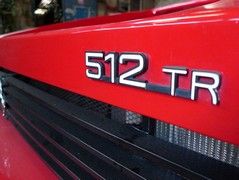 Goodbye 599 GTB, hello 512 TR!
It's a big, wide car, but it grips well on Bridgestone SO2s and it isn't too intimidating at 8/10ths on the road. I have no idea what happens beyond that point and will take it to a circuit soon to investigate. The 512 is a car which requires you to concentrate hard to drive it fast and smoothly: the pedals aren't ideal for rolling the throttle on downshifts, but you simply have to do that to make it work. The brakes are strong and the pedal has good feel.
Last week a huge puff of blue smoke shot from the pipes when it was started. This engine configuration can do this, but it scared me witless. I phoned around because there was a little lingering smoke from the left exhausts. Everyone said to check the oil pressure, check the oil level and if both were okay, thrash the nuts off it. I did this and the car is again entirely smoke-free and running beautifully.
As you can probably tell by the length of this report, I like my 512. It's dog-eared enough for me to use without fear and clean enough for me to cherish. I've gone back, and this relationship may last longer than many of the others.

---
FACT SHEET
Car: Ferrari 512 TR
Run by: Chris Harris
Bought: June 2013
Mileage: 56,000
Purchase price: Next question...
Last month at a glance: 512 TR replaces 599 GTB in the Harris stable, and this one could be a keeper...