As the lengthy reveal for BMW's battery car ends, PH asks: could it tempt you into electric motoring?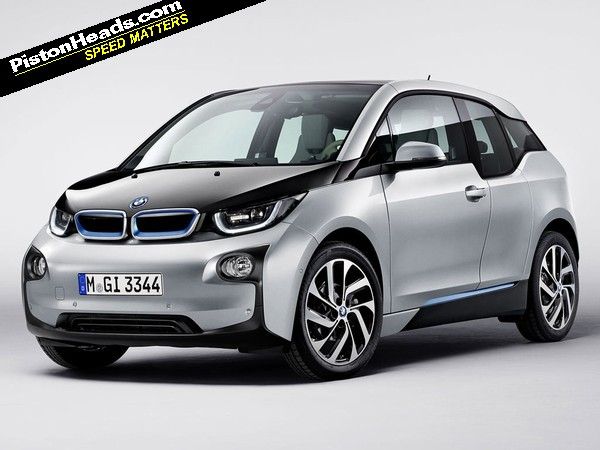 Could you buy a BMW i3? After months of hoopla surrounding this electric city car, we've finally been shown the production car ahead of sales later this year. Will any PHers be lining up?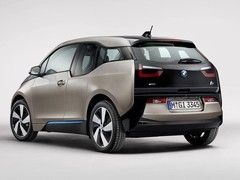 And we thought the X1 was bad...
Here's what's in its favour. Chris Harris has already briefly
driven an early version
and was impressed. Given that one PHer went out and
bought an M135i
purely on the strength of
his video
, that might be enough.
The performance figures look good. The pure battery car will hit 62mph in 7.2 seconds with the range-extended version not far behind on 7.9 seconds, according to BMW. It's also rear-wheel drive. Top speed is 93mph and both produce 170hp.
We're even promised oversteer thanks to the dynamic traction control mode allowing a degree of slip "in particularly enthusiastic cornering". Now there's a Section 59 challenge...
It's impressively light at 1195kg for the electric version thanks to that carbon fibre body and an obsessive concern for weight saving which includes making screws and bolts from aluminum instead of steel.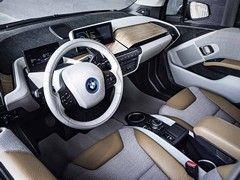 Beautiful interior almost makes up for styling
The purchase cost is bordering on manageable. The new information is that the the range-extended car with the onboard 34hp 650cc two-cylinder engine is a reasonable £3,150 more than the pure battery one at £28,830. Although quite why when it costs 13 percent more to buy does it cost 30 percent more to lease at £480 per month vs. £369 for the battery car isn't explained.
Of course running costs are minimal and even the two-cylinder i3 is rated at just 13g/km of CO2, so there's no VED or congestion charge to pay. If you've got room to home-charge it costs just £315 to install the fast-charge box that fills up the battery to 80 percent from zero in three hours. Fully charged, you could theoretically run for 100 miles before expiring, boosted to a max of 186 miles for the range extender.
That interior is pretty cool too. Chris reckoned that to sit in one is to want one and we're told that the four different interior specs (sorry, "Worlds") of Standard, Loft, Lodge or Suite all feature natural materials including wood, natural fibres and leather.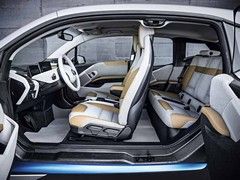 White and biscuit unlikely to be a popular combo...
The ConnectedDrive infotainment system has the standard embedded SIM that will surely be the subject of many PH threads in years to come, but for the moment it looks pretty harmless and useful in bringing features such as sat nav planning that takes into account the range and offers public transport solutions for onward journeys from the charge point.
So what's bad, other than wider objections to electric motoring? The looks are never going to have anyone swooning. Measure the social skills of your friends by recording their adjectives used: royal protocol officers will describe it as 'interesting'.
Running costs might stretch higher than imagined too. For example those tall, skinny tyres measuring 155/70 R19 won't be cheap. You can source them now for about £80ish a corner, but all are space savers with a max speed of 50mph!
Yes this car is the future, but only to people who use the word 'megatrends' on a daily basis. To the rest of us it's an interesting talking point, but is that it? We'll be interested to know, would the i3 make you more likely to buy an electric car than before?