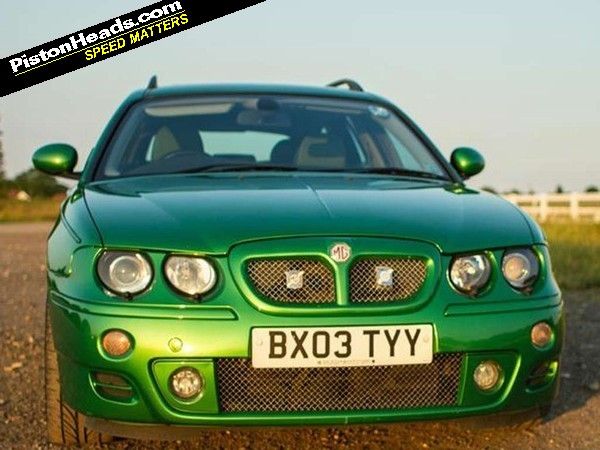 There's been a bit of an estate theme coursing through PH recently. Chris Harris has been hooning around in
the latest German uberwagons
, we've learnt the history of the
3 Series Touring
and all of us remain rather fond of the
Focus ST
fleet estate.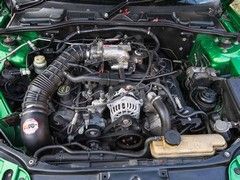 Two valves per cylinder and 57hp per litre...
Therefore, some kind of classifieds-based feature had to follow. But where to start? The
Mini Clubman
is a guilty pleasure so it was considered, as well as this interesting
Octavia vRS
, one of just two petrol models for sale. And the
Legacy Spec B
proffered a leftfield hot Subaru alternative also.
Plenty of choices then, but we've settled on a car familiar to PH: an MG ZT-T V8, the exact car that featured in Estates of Play in 2011. The Mustang-engined estate was always in contention, but to have such a unique car available meant we had to run with it.
Chris's (aka Kermit Power's) ZT-T V8 is reputedly the only car made in Biomorphic Green too, so it really is one of a kind. Furthermore, having been built for MG Rover Product Director Rob Oldacre, BX03TYY comes with nearly every option including xenon headlights, a stereo upgrade and heated leather/Alcantara seats.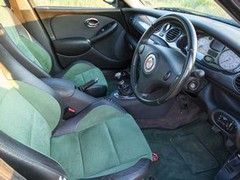 Not-quite Biomorphic Green for the interior
However, of far more interest are the aftermarket tweaks added by Chris to further enhance the ZT-T's appeal (i.e. by enhancing that V8). A pair of stainless steel backboxes 'really make the car sound like it should', plus a K&N air filter should benefit those inside the car too. Moreover, some of the niggles (or charm as some may see it) associated with this wildest of MG Z-cars have been resolved. There's now a full-size spare wheel, the coolant hose has been replaced and fuel pump clip is new as well.
The entire advert, all 1,512 (!) words of it, could easily make a feature by itself, detailing the ups and downs of seven years' ownership with this enigmatic car. This ZT-T has been enjoyed but cherished, with high-quality parts used throughout Chris's ownership.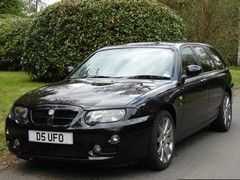 Some more subtlety available for £9K
It's easy to forget that, given the constraints facing MG a decade ago, the ZT-T V8 was actually a remarkably decent car. Sure, that ol' lump of iron out front was lazy and it was never going to be an advanced driving experience, but it could tackle corner with a fair degree of composure whilst sounding ace. Indeed, our old friend Riggers described it as 'a brilliant car' that 'even handles moderately adroitly' when he
drove this very one
in 2011.
The mandatory stuff like the MOT (June 2014) and tax (October) are in place for the next owner, and it's nearly half the price of this low-mileage ZT-T. Finally, after struggling to justify an eccentric V8 yesterday, there's now a reason to own and enjoy a V8; the Lib Dems want combustion engines banned. So go wild, supercharge the thing, and enjoy a fantastic V8 estate whilst it's still possible.

---
MG ZT-T V8 260
Engine: 4,601cc V8
Transmission: Five-speed manual, rear-wheel drive
Power (hp): 260@5,000rpm
Torque (lb ft):3034,000rpm
MPG: 21
CO2: 314g/km
First registered: 2003
Recorded mileage: 81,000
Price new: £28,995
Yours for: £6,995
See the original advert here