PH2 storms the ramparts of Dunlop's motorsport tyre facility for the inside story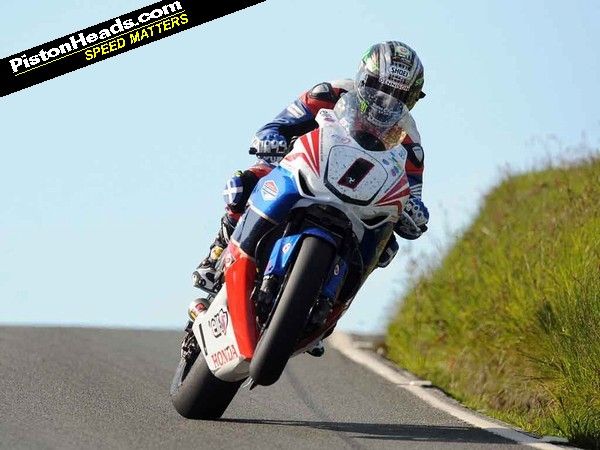 How many times have you driven past Fort Dunlop beside the M6? Believe it or not a building within that complex produces over 250,000 handbuilt race tyres for Moto2, Isle of Man TT, BTCC, World Endurance and a whole host of other motorsport events. That building is Dunlop's race tyre factory and PH2 got the chance to nosey around...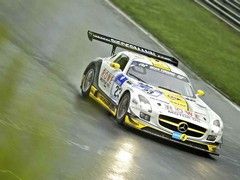 Race facility is split 60/40 cars to bikes
The 40 huge Dunlop-branded articulated transporters parked up outside give a clue to just how busy this building is. With a 60/40 car/motorcycle split the demand necessitates a 24-hour production schedule. In Moto2 alone, Dunlop has to supply each of the 40 riders on the grid with five front and seven rear tyres a weekend.
Sounds like a logistical nightmare? It is, especially as each tyre has to be tracked and recorded to ensure the teams don't cheat.
Sneaky stuff
Where on a single tyre car race series Dunlop actually embeds microchips in the sidewall, motorcycle tyres still use identification stickers. Not that it stops a few of the teams bending the rules. Remember how fast some riders were on the opening few laps of Moto2 during the inaugural season before mid-season they seemed to forget how to ride quick out laps? There is a tyre softening solution that drag racers use to give them immediate grip before the tyre has properly heated up, this is now banned in Moto2...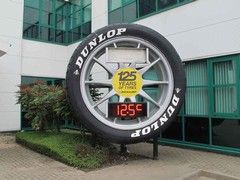 Just in case you were in any doubt about the product
If you think a tyre is just a black and round object, think again. The whole process starts with the raw materials, which are pretty varied but mainly consist of carbon black, oil, rubber, synthetic rubber, Kevlar, silica, steel and neoprene rubber.
Stage one involves making the actual rubber compound. Basically that's the black stuff, comprising over 20 different components fed into a machine called a Banbury. Operating like the B&Q paint mixer it automatically measures and adds pre-determined quantities of the compounds into a big mixing pot.
Great British bake off
These are mixed and heated and squeezed out in what looks like big strips of chewing gun. This compound's performance can be altered by the quantities of the ingredients, a bit like making a cake. More silica makes a better wet weather tyre, more carbon black makes it last longer and more oil makes it stickier - which seems a contradiction. Believe it or not, oil is a major component in tyre production with around four litres of oil in a car tyre and 1.5 litres in a bike tyre! And yes, natural rubber from a tree is also added, although so is synthetic rubber.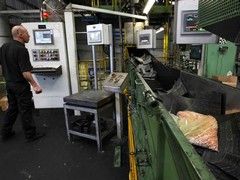 Ingredients are fed into the Banbury mixer
With this compound ready to go, the tyre can be built. The first stage involves a neoprene sheet. Since the demise of inner tubes something is needed to keep the air within a tyre and tubeless tyres use an initial layer of neoprene. But it needs to be held onto the rim and this is where the steel comes in. Steel doesn't stick to rubber and so after being coated in copper and then rubber, steel wire is wound into a circle and then joined to form the tyre's bead.
These beads are combined with the neoprene on one of 10 special machines. Each machine has a metal drum (known as a former) in the shape of a tyre which spins and allows the worker to place first the neoprene, then the beads which are joined together with strips of rubber and finally a nylon ply layer is added for strength. This creates a basic carcass shape, which is then transferred to the £2m MRG (Motorcycle Radial Goodyear) machine. The MRG winds on strips of Kevlar thread coated in rubber onto the carcass in much the same way you would wind string onto a bobbin in a process Dunlop call JLB, or jointless belt.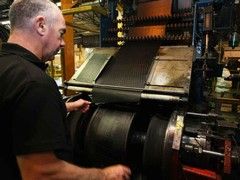 Hands-on expertise in construction may surprise
Weaving a story
The Kevlar is twisted together before being coated in rubber and by varying the strength of the twist Dunlop can affect the carcass's performance - a tight twist makes the carcass stronger, a looser one makes it move around more. With this attached to the tyre Dunlop then covers it with a layer of aramid which uses its N-TEC technology developed through racing and essentially holds the carcass together so that it forms a stronger structure allowing lower tyre pressures.
Using a process called JLT (jointless tread), Dunlop winds the rubber compound onto the carcass in the same way that the JLB is added. Starting at one side of the tyre, the rubber is applied in thin continuous strips with the final product looking a bit like it has been made of Playdo.
Should Dunlop wish to vary the compound it simply introduces a new 'rubber' into the strip with no joint. Although some of Dunlop's bike tyres use a flat strip of compound wrapped around a carcass it isn't as accurate as the JLT technology as there is an area at the edge of the tyre with overlap due to the change in the tyre's profile. By using JLT the compound mirrors the tyre's form perfectly, creating a smooth profile.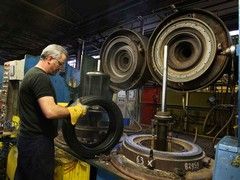 Tread is added in the vulcanisation mould
Calling Mr Spock!
Rubber attached, what you now have is a 'green tyre' which isn't actually green but hasn't been heated. The final stage of tyre manufacture involves vulcanisation. Nothing to do with Mr Spock, vulcanisation is simply the use of heat and pressure to cure the tyre and make all its compounds work properly, a diaphragm and mould holding in this state for 20 minutes at 10bar and 200 degrees. It is during this process that the tread pattern is forced into the tyre by the mould.
Before being sent from the factory, every tyre is weighed, a balance spot added and then one in 10 is also X-rayed to check the angle of the Kevlar weave in the carcass to ensure it is uniform. Having passed inspection it's off to the store room where the tyre sits alongside up to 50,000 others ready to be picked out and sent to a race meet.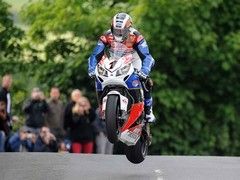 McGuinness gives his Dunlops a breather
When you look at the cost of a 'race' tyre compared to a road one you may wonder why for a bike they are generally £100 more. The answer is simple, each tyre is handbuilt in Birmingham by one of 250 staff in a process that takes around three hours from start to finish. Dunlop estimates the cost breakdown of a race tyre is 66 per cent labour, 33 per cent raw material, while a road tyre is 66 per cent material, 33 per cent labour as it uses a more automated production process. Also, the tyre you have bought for a trackday may well have been the next in line to a TT-winning D212GP Pro. As we found out when
we tried them out
not so long ago...