Dale finally makes it to the end of a VLN race - and somehow it's even called 'work'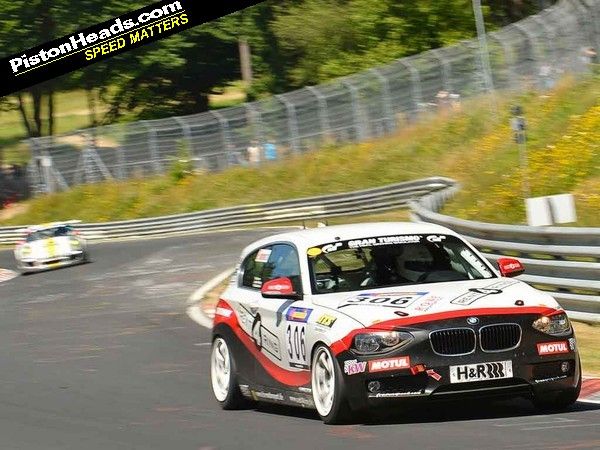 Third time lucky. It's a mantra which many of us use to convince ourselves that two previous failures were only unlucky. That, even in the face of the previous evidence, we should continue doing something that any other rational person would have given up on.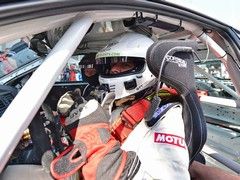 Thumbs up, Dale's got to the grid at last!
My first attempt was in the annual six-hour race in 2010, when my team-mate's E36 M3 was cruelly punted off into the barrier at T13 by a fast-moving Scirocco.
My second attempt came nearly three years later in June of this year, but that also ended abruptly (and tragically) when fellow competitor and past champion Wolf Silvester died at the wheel of his Opel Astra OPC Cup car.
In the background to this story, watching my futile attempts, are my two bosses. Ralph Beck and Fredy Lienhard. Fredy's raced everywhere from Daytona to Monaco. Formula cars, prototypes, touring cars, you name it, he's raced it. Ralph, like me, was a wannabe. Together, at the start of this year, they entered the Nurburgring-only VLN championship in the lowliest class. The idea being to teach Ralph how to race and also have some fun.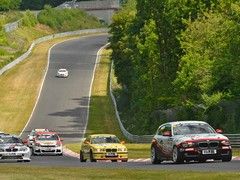 1 Series ended up in the thick of the action
Second race out they won. In an MX-5, against the brand-new Toyota Motorsports GmbH GT86s. Race by race, the pair have only got faster. They're going into the next race with one technical disqualification and a balance of performance decision against them. That's good, it means they're quick.
And I've only been getting more and more jealous.
One morning, deep in the psychological slump from my second failed racing attempt, I came into work and got told I had a serious meeting with them. I thought it was going to be another ass-kicking for writing articles or Facebooking in company time. But it wasn't.
"Would you like to drive a brand-new race car for the remaining six races of the VLN championship?" asked my bosses.
Erm, let me not even think about that for a minute.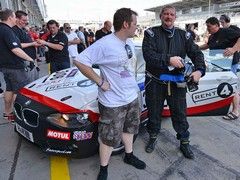 Dale and Johan chill out in the pits
Job jobbed, Fredy had already pulled one of our brand-new BMW F21 125i rentals off the fleet and sent it to T+N Motorsport for the conversion to full racecar. And thus Team Rent4Ring Racing went from being two guys in a Mazda MX-5 to quite a few guys in two cars. The idea being that regular visitors of ours on trackdays and tourist days might want to try moving up a level. They weren't wrong either...
A couple of weeks later I found myself alongside fellow VLN rookies Tim Breidenbach and Johan Sandberg. Our steed, the proddie-spec BMW 125i, is a 2.0-litre turbocharged beauty, but it's making too much power. Standard, I should add. Dyno'd on the rollers at Manthey Racing it made nearly four corrected horsepower more than it was allowed to.
So on race day we were ripped from the production-class of VT2 and slotted into modified monsters of SP3T (wide-bodied cars with full aero, big power and very big tanks, essential for these four-hour VLN races).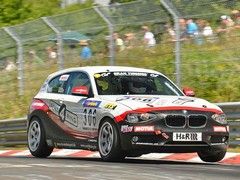 Tim's pace ensured a strong qualifying
There are three whole grids of cars in a VLN endurance race, and our car was starting near the back of the second grid. Tim got us away clean in amongst a pack of cars which by all rights should be a lot faster than us. By surviving the maelstrom that had been created by our surprisingly quick qualifying times, he'd already impressed us. I took the second stint, breaking into the sub 10-minute laps in our little 230hp car. The gearbox of which is an automatic. Can you believe it? I bet
Mr Harris can
, because I think he's rather fond of it in the
bigger 135i
. Now I am too. It's the ZF eight-speed and not only does it shift quicker than most DSGs, but when it's combined with the little four-pot turbo in the 125i, it's also got the perfect ratios for the Nordschleife. Eighth is useless, but seventh is great when you're drafting. Technical regulations about minimum weight and maximum power meant there was very little competitive advantage to us using the manual version. You can shift mid-corner with the auto, you gain tenths on every upshift and a new driver can't burn the clutch either.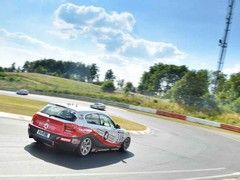 The ZF auto even works in a racing car!
Even ice-rally driver Johan loved the little auto and its sequential shifter, going nearly a second quicker than me
in the final stint
. And that was his first race too.
In the end we finished well up the order and sixth out of 14 starters in the modfied SP3T class. And now the third time did indeed turn out to be lucky, it's all the justification I need to continue this racing at the 'ring malarkey. August 24, and the six-hour race is next.
 
Photos:Frozenspeed