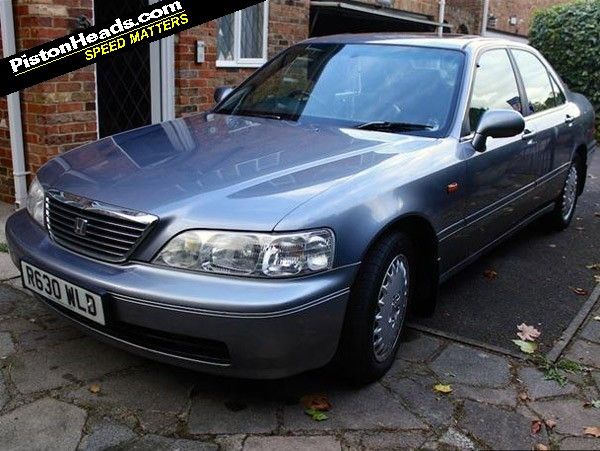 Whether we like it or not, fashion dictates much of modern life. Luckily, the seeker of Sheds has about as much interest in fashion as he does in quantum mechanics. This robust approach allows the Shedman to swoop and glide behind the used car trawler like a rabid seagull, feasting on perfectly edible denizens of the deep that have been inexplicably shunned by squeamish fashionistas.
For Legend styling, see Civic saloon XL
Like this Honda Legend, the spurned gurnard of executive motoring.
Put 'legend' into Google and you'll get more than 500 million results ranging from film titles to a hotel in Saigon via a Bob Marley tune and a pushbike shop. What you won't get for at least the first ten pages of your Google results (as far as Shed could be bothered to go) is any mention of the Honda, which goes to show just how far under the dragnet this scaled-down Lexus LS400 swims.
The first Legend ('85-'90) was the result of a joint venture with our very own Austin Rover Group. The idea was to give Honda something with which to compete against domestic slushmobiles like the Toyota Crown and Nissan Cedric, and to create a replacement for Rover's ageing SD1. Japanese and US markets got the Legend: we got the Rover 800 Sterling.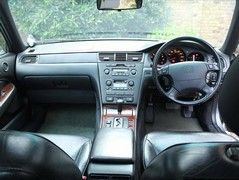 You just know everything will work in here
The original plan was for British-market Legends to be built at AR's Oxford plant. Unfortunately, the workforce's failure to expunge shoddiness and stray dog-ends from the build process was not appreciated by Honda or by potential Legend owners. In truth, the Sterling that emerged from the morass was a half-decent car, and quite a bit less floaty than the Legend, but the British marque's reputation was so snot-stained by then it never stood a chance against the established Germo-bargery.
With the bar on quality and refinement having been well and truly reset in 1989 by the arrival of the LS400, the second-gen Legend had it all to do when it slid into the market a year later. Noting the similarity of the two cars' profiles makes you think that Honda must have had a pretty good inside line on what Toyota was about to unleash. Either that or they were using the same design software.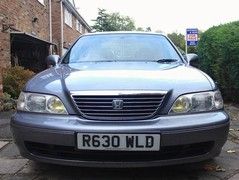 Well it won't offend anyone...
Third-generation KA9 Legends like this one came along in 1995. Like its predecessors, it was front-wheel drive. That and a mere V6 under the bonnet generated a degree of scoffage from Mercedes and BMW fanboys who said it couldn't be a true Lexus LS competitor without a V8. Shame there are no pics of the 3.5-litre engine, as Shed remembers it as a handsome installation. It was designed for comfort rather than speed, oozing out an easy-on-Sunday-morning 205hp with very few ownership-tainting foibles to fret about. The interior is equally pleasing in its no-nonsense 'engineer's choice' style.
This is the second Legend to come before Shed's pince-nez spectacles in the last few weeks. Garlick was interested in the first one and so, in the finest British traditions of patronage and favouritism, and knowing which side his bread was buttered on, Shed put a D-notice on it.
In the end he needn't have bothered, as PG opted for the watery perch of a scooter instead. Go figure. No such worries with this Legend. Garlick's loss is your gain.
Here's the ad.
HONDA LEGEND 3.5 V6 AUTO (1998), Honda, Legend, Silver, 1998, 5 doors, Saloon, Automatic, Unleaded, 3.5, ABS, Alarm, immobiliser, CD player, central locking, electric mirrors, electric windows, heated seats, power steering, radio, sunroof, airbags, child locks, climate control, cruise control, electric seats, HONDA LEGEND 3.5 V6 AUTO (1998) (£1,050) Grey Metallic colour, Air Conditioning, Climate Control, Full Leather, Alarm, Anti-Theft System, Auto, Central Locking, Immobiliser, Remote Alarm, Remote Central Locking, Centre Armrest, Electric Seats, Head Restraints, Heated Seats, Height Adjustable Seat, Lumbar Support, Rear Armrest, Rear Headrests, Adjustable Steering Column, Cruise Control, Multi-function Steering Wheel, Power Steering, ABS, Air Bag, Child Locks, Multiple Airbags, Quick-Clear Screen, Colour Coded Body, Metallic Paintwork, Electric Mirrors, Electric Windows, Electric Sunroof, Multi-Disc CD Player, Radio Cassette, 16'' Alloys, ALl 4 original keys including red master. 
MOT EXP - April 2014Â 
TAX EXP - September 2014 - 12 Months brand new!!
Absolutely lovely executive car in great condition, with all the mod cons you would need. 
Come and grab a bargain ...In 1998 this car was 50K :)Â